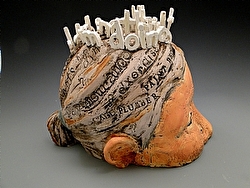 What's swarming around your head?
A couple of years ago my husband and I made a long 24 hour trip to Phenix. My husband likes quiet. He doesn't like chatter and, you guessed it, I like to converse on long car,, drives. So I decided this time I would honor is desire to have peace and quiet. At the same time I was curious how long he would go without saying something, so I sat quietly.....ever so quietly. Four hours later my husband utters his first word (beyond restroom inquiries). Ready? He said, 'I think I just figured out how to make those dovetails.' Dovetails? You know, the clever joining technique used in woodworking? He asked me what I had been thinking about. When I wasn't reading, I had been redesigning our family room-rearranging furniture, considering other color options, etc. Not exciting stuff, but on a long car ride or when I have time on my hands without anything else to do, I often plan. Plan my future sculptures, rearrange the furniture in my mind, sketch out a possible painting.
This idea of what swarms around in our heads started me thinking about representing what people think about in a sculpture. When we aren't thinking about mundane things, like doing the wash and what to get at the grocery store, what do we mostly think about? What's important to us?
The attached image has all the mundane things I usually am thinking about i.e. calling hte plumber, making treats for a meeitng, paying bills, etc.-those things are stamped (written) on the sculptures hair. What swirls around the top of her head are some quotes about dreams. They hold the place of importance and it's no mistake they form a crown.
Email me what you usally think about and you might find yourself represented in a sculpture!
Comment on or Share this Article →
---