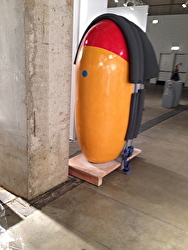 A Jun Kaneko in wraps
One of the first pieces I saw in 'wraps' when I walked into Navy Pier festival Hall to deliver my pieces to the Gallery representing me at SOFA Chicago was a Jun Kaneko. What an amazing way to be greeted! For those of you who live in Des Moines there are 4 (or is it 5?) Djangos of Kanekos on the River Walk. A taller version for sure but a few of his smaller pieces (althought taller than 6 feet) are part of the gallery exhibition happening here through November 3.
For figurative clay fans Akia Takemori has several large pieces as well as Janis Mar Wunderlich and many others. Hopefully I'll get some shots of them this weekend and share the images with you.
Off to the exhibit!
Comment on or Share this Article →
---
---
---
---
---
---
---
---
---
---